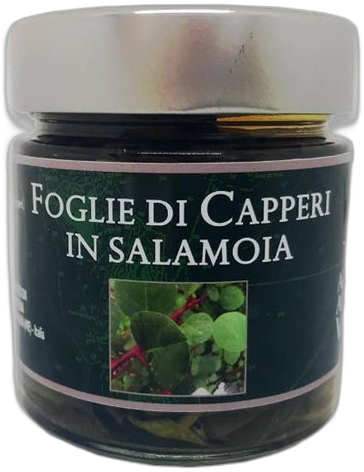 Virgona
Virgona - Caper Leaves in Brine 250g
Caper leaves (foglie di capperi) are thin and firm, with a delicate caper taste. Preserved in a delicate brine with Sicilian sea salt, they are ready to use after a quick rinse, or longer soak in water to adjust the saltiness to your desired taste.
Description
Virgona are one of only a few families who farm capers for commercial sale on the island of Salina. In the spirit of maximizing the uses of the precious caper plants on the remote island of Salina, the Virgona family also harvest and preserve the leaves of the caper plant.
Serving Suggestions: 
Rinse caper leaves well before using them. If you wish to eliminate more salt, soak in several changes of water over the course of a few hours. When the leaves are to your taste, drain them and dry thoroughly. Mix them into salads, use them to season roasted fish or meat, or deep fry them for a unique antipasto. Chefs love them because these beautiful leaves make a stunning garnish for savoury dishes or creative cocktails.
Features
Hand-harvested wild caper leaves
Delicious delicate caper flavour
Preserved in sea salt - no artificial colours, flavours or preserving agents