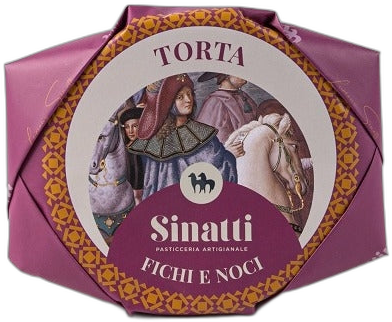 Sinatti
SINATTI TORTA FICHI NOCI #413 100G
Pieces of dried fig and walnuts are added to a classic mix of candied melon, honey and spices.
Description
The roots of panforte can be traced back to the fruit cakes of ancient Rome, where pomegranate seeds, pine nuts and raisins were mixed with a barley, honey, spices and preserved fruits. Throughout the Middle Ages different versions of similar cakes were to emerge in every European country: Stollen in Germany, cozonac in Romania, Bollo de higo in Spain, various forms of fruit cake across the UK. In Italy, it is the panforte of Sienna, Tuscany that most closely resembles the ancient cake.
The original name of panforte was panpepato, (peppered bread). Along with nuts, dried fruits and a mix of aromatic spices, it contained quite a lot of pepper which was a rare and expensive at that time. Documents from 1205 show that panpepato was paid as a tax to monasteries in Sienna. And it is widely believed that panpepato sustained the Crusaders on their travels.
So when you serve panforte, you are literally serving a slice of history.
Serve panforte at the end of a meal with coffee and small glass of passito-style wine like Vin Santo or a nut-based liqueur like Amaretto or Nocino.