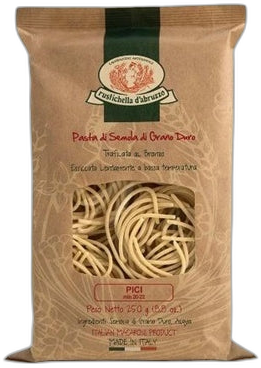 Rustichella D'Abruzzo
Rustichella - Pici (Tuscan Style) Pasta 250g
Thicker than spaghetti, Pici is a traditionally hand-rolled pasta shape from Siena, Tuscany. Typical sauces that accompany Pici are: l'aglione, a tomato-based sauce that is combined with a particular type of garlic that grows only in the area of Sarteano (Siena); game ragu (wild boar, rabbit, duck); boscaiola (porcini mushroom sauce); cacio e pepe; or briciole (with bread crumbs that have been sauteed in olive oil).
Description
Rustichella d'Abruzzo is one of the few genuinely artisan pasta manufactures operating in Italy. They use a blend of only the highest grade hard durum wheat which they can source from Italy, Canada and Australia to achieve the ideal balance of proteins, flavour and texture.
The pasta is extruded through bronze dies and dried at low temperatures over 36 to 50 hours in static drying rooms with regulated humidity to allow the proper fermentation of the semolina and the flavour to fully develop. 
Features
Authentic artisan pasta
Premium quality high-protein semola 
Bronze extruded
Slow dried at low temperature