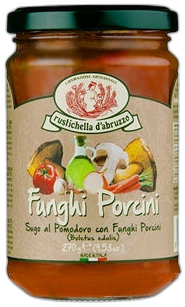 Rustichella D'Abruzzo
Rustichella - Pasta Sauce Porcini Mushroom 270g
Rustichella tomato-based pasta sauces are made from plump vine-ripened tomatoes and other premium ingredients. They have the superior flavour and texture of home-made, traditional pasta sauces.
Description
Ingredients: Vine-ripe tomato, porcini mushrooms, extra virgin olive oil, carrot, onion, garlic, juniper, sugar and salt.
Only the freshest available vegetables are used for these sauces. The tomatoes are deliciously sweet, and have been peeled and seeded. Quality extra virgin olive oil is used. The sauces are cooked for a minimum amount of time to preserve the delicate freshness of the tomatoes.  
These sauces are best enjoyed with one of Rustichella's own pasta shapes. However, their use is really only limited by your imagination. They are ideal on pizza, in stews or soups, over baked or broiled meat or fish, or even as a finishing sauce for risotto.
Features
Rich, authentic flavour
Only quality ingredients
Ready to use
No preservatives