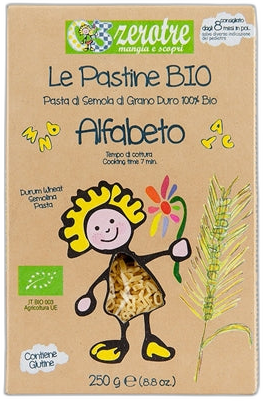 Rustichella D'Abruzzo
Rustichella - Alphabet Pasta 250g
Alphabet semolina pasta is made from organic ingredients especially for children. Kids love them served with just a little butter or extra virgin olive oil, but they can be combined with simple sauces or added to soups.
Description
Rustichella d'Abruzzo is one of the few genuinely artisan pasta manufactures operating in Italy. They use a blend of only the highest grade hard durum wheat which they can source from Italy, Canada and Australia to achieve the ideal balance of proteins, flavour and texture.
The pasta is dried at low temperatures over 36 to 50 hours in static drying rooms with regulated humidity to allow the proper fermentation of the semolina and the flavour to fully develop. 
The ZeroTre range of pasta has been specially formulated for children using the high quality organic ingredients produced into pasta shapes that are fun and easy to eat.
Features
Certified Organic ingredients
Authentic artisan pasta
Premium quality high-protein semolina 
Slow dried at low temperature