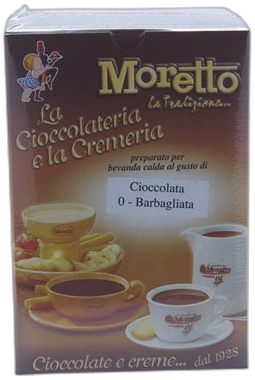 Moretto
Moretto - Italian Drinking Chocolate Sachets 30g x 12
Moretto Barbagliata is traditional Milanese-style, extra thick, milk hot chocolate. This box has 12 convenient individually portioned sachets. GLUTEN FREE
Description
Moretto drinking chocolate comes from Milan, a city renowned for its discerning palate and home of the best hot chocolate in Italy. Locals have been imbibing cupfuls of thick, rich chocolate since the Nineteenth Century and Moretto have been making their quality drink since 1928. Their classic, the Barbagliata, is named after the manager of the Caffe dei Virtuosi who created an extraordinary drinking chocolate in his cafe in 1859, and whose commitment and passion Moretto proudly emulate in this carefully blended drink.
How to make Moretto Thick Italian Hot Chocolate
For every 30g of Hot Chocolate Powder, use 125 ml milk. Warm the milk over your stove top until very hot. Take off the heat and stir or whisk through the powder. Place back on the heat and continue stirring until the mixture is well blended and very thick. If you prefer your hot chocolate thinner, remove from the heat when it is the desired consistency.
Features
Traditional Milanese-style chocolate
Milk chocolate 
Gluten Free