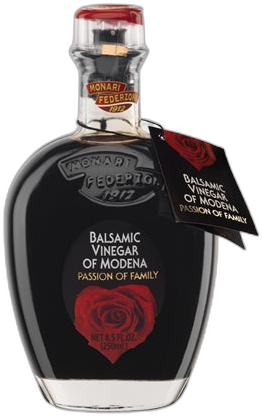 Monari Federzoni
Monari Federzoni - 'Passion' Balsamic Vinegar 250ml
Monari Federzoni have set a new standard for thick and reduced styles of balsamic vinegar with the release of Passione di Famiglia - Passion of Family.

'Passione' has a density of 1.33 which is the highest possible score for density of a Balsamic Vinegar of Modena.

A rich, dense and velvety balsamico with intense but balanced flavours and the pleasant characteristic woody notes you expect from quality balsamic vinegar.
Description
This new balsamico celebrates four generations of the Monari Federzoni family's passion and dedication to Balsamic Vinegar of Modena. The heart-shaped image of the rose on the label, is a reminder of the rose bushes that are planted at the end of the rows of vines in the Monari Federzoni vineyards to serve as an early warning sign of the health of the grapes. 
To be a Balsamic Vinegar of Modena, it must be produced in the province of Modena from grapes that are typical to the region: Lambrusco, Trebbiano, Ancellotta, Albana, Sangiovese, Fortana, Montuni, and it must be matured and aged in fine wood barrels registered with the consortium. Furthermore, that the consortium has sampled each product and all production facilities and processes meet the consortium's standards.
In June 2009 the PDO and PGI Committee of the European Union awarded the prestigious Protected Geographical Indication label to Balsamic Vinegar of Modena  which recognizes its rightful place among as one of Italy's most important and emblematic foods.
Serving Suggestions: Try a few drops on freshly grilled meats and seafood, or roasted vegetables. A rich balsamico to enjoy over fresh strawberries, gelato, or drizzled over aged Parmigiano Reggiano.
Features
Highest density attainable for a PGI balsamic vinegar
Rich, intense balanced flavour