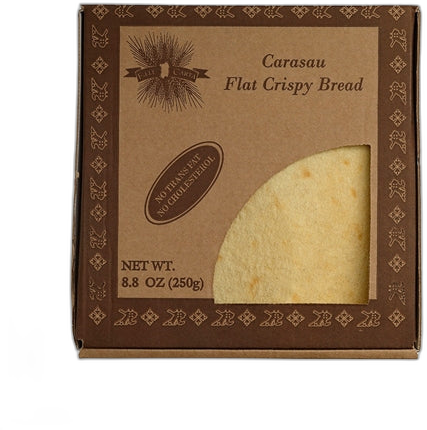 Fratelli Carta
Fratelli Carta - Pane Carasau Sardinian Crispbread 250g
Sardinia's famous specialty crispbread.
Description
Fresh semolina dough rolled by hand, baked in large ovens until puffed, then sliced in half. The flat bread is then dried, stacked, and packaged by hand in traditional boxes. 
Pan Carasau is also called carta di musica  which translates to sheet music although the origin of this is disputed. Some believe it is because the sheets of bread should be so thin and translucent, you should be able to read sheet music through them. Some believe it is because the golden-coloured crispbread resembles the old parchment of music paper, while another version says it is because of the "music' that the brittle bread makes when it is broken up.
Serving Suggestions: Sprinkle with extra virgin olive oil, sea salt, and fresh rosemary and place in a warm oven until very crispy. Serve in the place of regular bread or to accompany antipasto or cheese courses.
Features
Authentic Sardinian recipe and production method
High-quality semolina