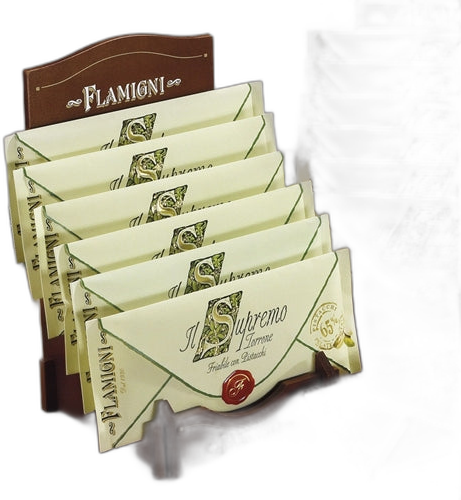 Flamigni
FLAM TORRONE BRITTLE PISTACHIO SUPREMO ENVELOPE 150G #91
The 'Il Supremo' range of torrone is Flamigni's very finest with a minimum of 65% pistachios. This is a brittle pistachio nougat presented in attractive gift envelopes.
Description
At the Flamigni factory in Forlì, the family has been making torrone for over 80 years using a family recipe that has been handed down over three generations. Quality torrone consists of just a few ingredients – egg whites, honey, sugar, nuts, raw vanilla and sometimes candied fruits. Flamigni uses Italian honey and sources its almonds from Puglia, hazelnuts from the Langhe in Piedmont, and pistachios from Bronte in Sicily. The company combines these ingredients torrone using the large copper mixers that have been in use since the 1950s.
Soft torrone can be served sliced, while the brittle torrone can be snapped into smaller pieces.  Serve with refreshments, or at the end of a meal with coffee and liqueur. It will also suit a sparkling wine such as prosecco or moscato d'asti.