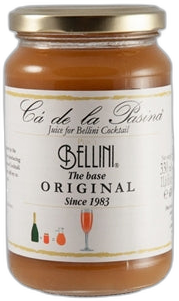 Ca De La Pasina
Ca De La Pasina - Bellini Mix Peach Nectar 330ml
A classic Italian Bellini cocktail is a delicious and refreshing aperitif. The blend of white peach puree with crisp Prosecco was created and served at Harry's Bar in Venice. This Bellini mix is based on the original recipe of white peaches, lemons and blackcurrants and is ready to mix with Prosecco.
Description
The Bellini is one of the classic Italian cocktails. Lightly alcoholic and fruity, fresh and light; a refined symbol of la dolce vita. This Bellini Mix is ready to combine with a good quality Italian prosecco to create an authentic Bellini cocktail.
When making a Bellini, everything (the glasses, Prosecco and Bellini white peach puree) should be cold as possible. Use one part white peach puree to five parts Prosecco; so your jar of white peach puree will be enough with 2 bottles of Prosecco.
If serving a group, combine the prosecco and peach nectar in a cold jug before serving.
Features
The only Bellini Mix based on the original Harry's Bar recipe
No artificial colour, flavouring or preservatives
Ready to use, just mix with prosecco