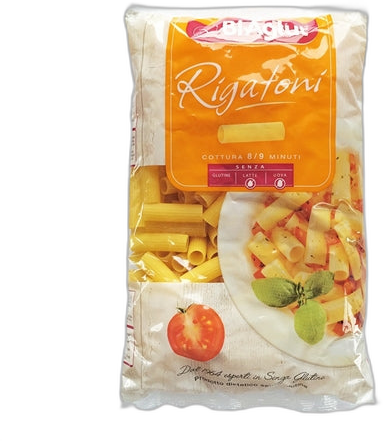 Bi Aglut
BiAglut - Gluten-Free Rigatoni 500g
A genuine gluten-free alternative to semolina pasta. BiAglut Rigatoni can be served with your favourite pasta sauce or pesto.
Description
BiAglut Gluten Free Pasta is the closest possible alternative to the real thing. The texture, colour and taste is just like wheat-based pasta. The pasta is available as gemmine, fusilli, maccheroncini, penne, spaghetti and linguine. Coeliac sufferers often name this pasta as the best gluten-free pasta available. Even people who regularly eat wheat-based pasta rave about this product.
BiAglut's pasta does not break up whilst it is cooking. Make sure that you cook the pasta in plenty of salted boiling water. Return the water to the boil quickly. You will notice that the water becomes particularly cloudy whilst cooking, which is typical of gluten-free pasta products.
BiAglut pasta is made from maize starch, potato flour, lupin flour and emulsifiers.
Features
Italy's #1 Gluten Free Pasta
Doesn't break up during cooking
Holds shape like quality wheat pasta
Endorsed by Coeliac Australia