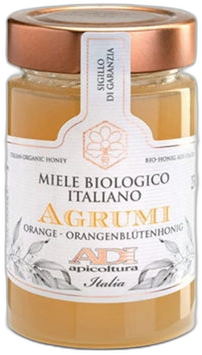 Adi Apicoltura
Adi Apicoltura - Orange Blossom Organic Honey 250g
Pale golden hued with an aromatic, orange/citrus flavour and citrus blossom perfume.
Description
The Southern Italian regions of Calabria and Puglia are home to extensive orchards of orange, lemon and other citrus trees. With arrival of the northern spring in March and April, the orchards are filled with the brilliant white citrus blossoms which are rich with fragrant nectar. ADI deliver their hives to selected certified organic orchards in the region.
Honey from citrus is light colored with a pronounced citrusy-floral aroma and flavour that can range from mild to strong depending on environmental variables. Citrus honey is well suited to using in sweets, drizzling over yoghurt, spreading on bread and sweetening teas.
Features
Honey made from nectar foraged in certified organic environments
Sustainable apiary practice
Raw, unpasteurised, unfiltered
No artificial colours, flavours or additives