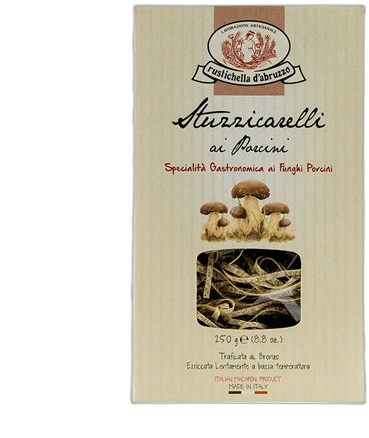 Rustichella D'Abruzzo
Rustichella - Stuzzicarelli with Porcini 250g
These nests of superfine egg and semolina laganelle have been infused with real porcini mushroom. When cooked this pasta has a accentuated mushroom aroma and flavour, and an earthy colour. This quick-cooking pasta can be dressed with Italian sausage, or nothing more than a drizzle of extra virgin olive oil or melted butter
Description
Rustichella d'Abruzzo is one of the few genuinely artisan pasta manufactures operating in Italy. They use a blend of only the highest grade hard durum wheat which they can source from Italy, Canada and Australia to achieve the ideal balance of proteins, flavour and texture.
The range of egg-based pasta use durum wheat semolina with fresh egg yolks and pure spring water to produce an authentic home-made flavour and texture.
The pasta is extruded through bronze dies and dried at low temperatures over 36 to 50 hours in static drying rooms with regulated humidity to allow the proper fermentation of the semolina and the flavour to fully develop. 
Features
Authentic artisan pasta
Premium quality high-protein semolina 
Bronze extruded
Slow dried at low temperature