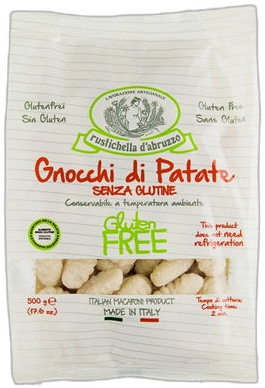 Rustichella D'Abruzzo
Rustichella - Gluten-Free Gnocchi 500g
Perfectly fluffy potato gnocchi made with rice flour. Serve with a tomato or cheese based sauce or with just a little butter or extra virgin olive oil.
Description
Gnocchi is an ancient alternative to pasta. It is actually the common ancestor to many different dumplings found throughout Europe. The Roman Legions introduced gnocchi to Europe as the Empire expanded across the continent.
Rustichella d'Abruzzo's gnocchi is made using potatoes and rice flour to give a genuine gnocchi texture.
Cook the gnocchi in plenty of boiling water for a brief 2 minutes or until they float to the surface. They can be served with your favourite tomato-based sauce, pesto or simply a drizzling of extra virgin olive oil with grated Grano Padano cheese. Refrigerate the packet after opening.
Features
Gluten Free authentic artisan gnocchi 
Superior flavour and texture