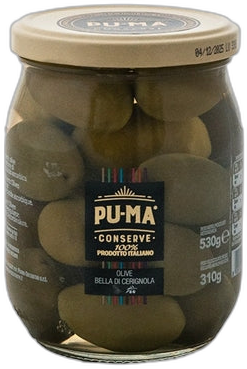 Puma Conserve
Puma Conserve - Cerignola Olives in Brine 550g
Large green premium-quality whole olives from Puglia preserved in brine.
Description
Cherished for their delicate floral character, cerignola are large green olives with flesh that clings to the pit and are mild and sweet in taste. Often called Bella di Cerignola, the name derives from the town in which they are grown in northern Puglia.
The olives are selected according to their size and quality before they are washed and cured before being preserved in brine.
Cerignola olives can be enjoyed as part of an antipasto selection. There are many Central and Southern Italian recipes for rabbit, duck and lamb which call for fleshy green olives. They are also suitable for making the stuffed olive dish Olive Ascolane. 
Features
Premium quality whole olives
Hand sorted, washed and preserved
No artificial additives