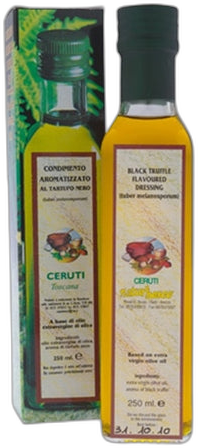 Ceruti
NATURBOSCO - Truffle Infused Olive Oil - Black Truffle 250ml
Pieces of Italian black truffle are used to infuses their unmistakable aroma and flavour into quality Tuscan extra virgin olive oil. This oil can deliver a hit of authentic truffle flavour for a fraction of the price of fresh truffle.
Description
The tuber melanosporum truffle is also known as the Black Périgord truffle. It grows exclusively around oak trees in late autumn and throughout winter. The black truffle is often cooked which enables the aromas to intensify. It has a much milder aroma than white truffles from Alba, with fresh earthy and mushroom flavour 
Naturbosco's truffle oil can instantly transform many dishes. As an infusion of actual truffle pieces in a quality extra virgin olive oil, it provides the unique flavour of truffles in the most convenient way.    
Serving Suggestions: Drizzled over risotto, pasta, salad or even scrambled eggs.  The flavour of truffle pairs well with asparagus, mushroom, and most root vegetables. A few drops into mashed potatoes with butter gives an incredible flavour. It can be used to add pungency to dishes with red meat, poultry and game.
Features
Real black truffle infusion
Quality Tuscan EVOO
No artificial aromas or flavours