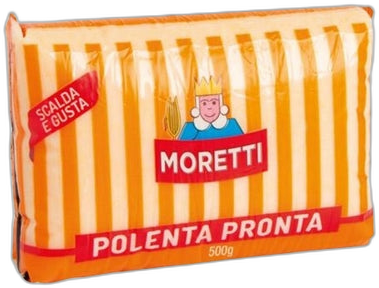 Moretti
Moretti - Polenta Pronta (Ready to Serve) 500g
Polenta Pronta is a high-quality, ready-to-serve polenta made with yellow corn Bramata.
Description
This is a ready-to-serve product prepared to the same high quality standards as all Moretti's other polenta products and wIth the rich, robust flavour of freshly cooked polenta.
Heat the polenta by placing the entire packet in boiling water for 5 minutes then slice and serve. 
Alternatively, open the packet, cut slices of polenta as required and heat in the oven, grill or lightly fry with oil and butter. Place remainder in an air tight container.
Polenta Pronta can be served with sauté mushrooms, cheese, sausages and vegetable dishes. 
Features
No preparation required
Gluten Free
GMO Free
Sugar Free
Very Low Fat 0.3/100g