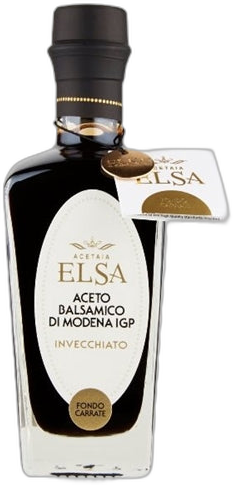 Monari Federzoni
Monari Federzoni - Balsamic Vinegar of Modena 'Elsa' 250ml
This exceptional balsamic vinegar is 'invecchiato' aged a minimum 3 years in a variety of wooden casks. It is also deemed "riserva" indicating the highest quality grapes sourced exclusively from the company's own estates.
Rich, full-bodied and velvet-textured. Ideal for use on hot or cold dishes with assertive flavours.
Description
To be a Balsamic Vinegar of Modena, it must be produced in the province of Modena from grapes that are typical to the region: Lambrusco, Trebbiano, Ancellotta, Albana, Sangiovese, Fortana, Montuni, and it must be matured and aged in fine wood barrels registered with the consortium. Furthermore, that the consortium has sampled each product and all production facilities and processes meet the consortium's standards.
In June 2009 the PDO and PGI Committee of the European Union awarded the prestigious Protected Geographical Indication label to Balsamic Vinegar of Modena  which recognizes its rightful place among as one of Italy's most important and emblematic foods.
Elsa Balsamic Vinegar is made exclusively from the grapes grown on the "Fondo Carrate" Estate: Lambrusco di Sorbara, Salamino Fortana and Ancellotta. After harvest, the grapes are crushed and cooked down before undergoing fermentation and acetic oxidation. The Elsa then undergoes maturation and ageing in a variety of oak vats and casks which impart aromas and flavour to the vinegar.
Serving Suggestions: Refined, aged balsamic vinegar such as the Elsa are wasted as salad dressing. This is a condiment to savour with fresh mozzarella or aged cheese. Drizzle a few drops over a grilled steak  or white fish. It is magic over fresh strawberries and gelato. 
Features
Aged minimum 3 years
Highest quality grapes from the exclusive Monari Federzoni estates
Full-flavoured, high density