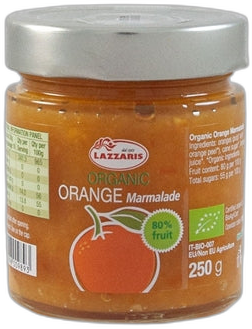 Lazzaris
Lazzaris - Orange Marmalade - Certified Organic 250g
80% Fruit: Orange pulp*, juice and rind*, cane sugar*, lemon juice*.
*Organic ingredient
Description
Lazzaris's range of organic preserves and jams are made with the highest quality, organically cultivated whole fruits. Italian law mandates strict definitions for the production of jams, preserves and marmalade, and Lazzaris maintains high production standards in accordance with the code of practice.
Only lemon, orange, tangerine, citron, grapefruit or bergamot can be used to prepare a real marmalade. Beyond stating that marmalade can be prepared only with citrus fruit, the law defines that the preparation must contain a minimum of 20% fruit. Lazzaris Orange Marmalade contains 80% fruit.
Fresh, fizzy and fragrant, this orange marmalade pairs well with sweet ingredients, with a slightly bitter aftertaste that teases the palate. It has a perfect textural creaminess which makes it suitable for the traditional breakfast, with warm bread and butter, and equally perfect for the preparation and finishing of both simple and elaborate desserts.
Features
Certified Organic
80% Fruit
No pectin
Gluten free