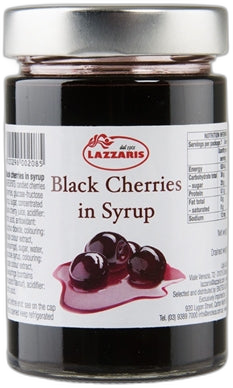 Lazzaris
Lazzaris - Black Cherries in Syrup 360g
Candied cherries in glucose and cherry syrup for cooking and decorating.
Description
These whole black cherries are first candied with glucose, black cherry juice and grape extract and then preserved in a mixture of glucose, sugar and mustard.
They are ideal for using in tarts, pasties and other sweets, or to decorate cakes and desserts.  
Contains preserving agents citric acid and sulphur dioxide.
Features
Whole juice black cherries in syrup