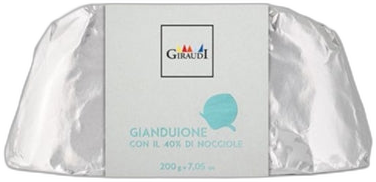 Giraudi
GIRAUDI GIANDUIONE 200G
Ground toasted Piedmontese hazelnuts mixed with finest quality chocolate to form a smooth, semi-hard block.
Description
A Gianduione is a giant gianduja chocolate with the same iconic triangular prism shape.
This solid form of chocolate and hazelnut should be served whole encouraging your guests to slice or shave off pieces of gianduia at will.
Features
Finest quality chocolate and fresh hazelnuts
No artificial colours, flavours or preservatives