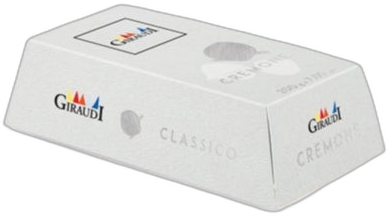 Giraudi
GIRAUDI CREMONE SCURO 200G
Three layers of smooth dark and white gianduja - hazelnut & cacao.
Description
A cremone is a big version of a cremino a favourite sweet from Piedmont which has layers of smooth, semi-firm, chocolate flavoured with finely-ground hazelnuts.
This giant version should be served whole, so slices can be cut or shaved off to accompany desserts, coffee and liqueurs. 
Features
Finest quality dark chocolate
Piedmont Hazelnuts IGP
No artificial colours, flavours or preservatives