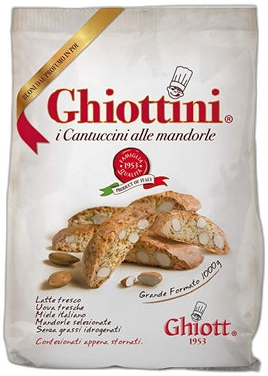 Ghiott
Ghiott - Ghiottini Cantuccini Almond Biscuits 200g
Ghiottini are Enzo Salaorni's version of the traditional Italian cantuccini. They are made with whole, skinned Mediterranean almonds, "A" class egg yolk and millefiori honey from Tuscany's Montalbano hills.
Description
In Italian, the term 'biscotti' refers to those sweet biscuits which are twice cooked. Traditional cantuccini biscotti were baked, cut and then re-baked. This allowed the biscuits to maintain their freshness for a long time.
Like the traditional cantuccini, Ghiott Dolciara's ghiottini are also twice baked.  However, Enzo Salaorni's recipe uniquely calls for the production of a delicious, light, aerated custard of sweetened eggs called zabaglione. To this is added Tuscan  millefiori honey from the Montalbano hills which has a beautiful amber colour and rich, deep flavours., plus whole almonds from Sicily.
Ghiott Dolciara's products are certified by Bureau Veritas, which ensures that raw materials and production techniques are of the highest standards. 
Ghiott Dolciara ghiottini contain no preservatives or artificial colouring. 
Features
All natural ingredients certified by Bureau Veritas
No artificial colour, flavouring or preservatives
Artisan made biscotti