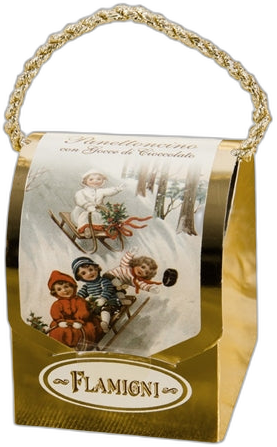 Flamigni
FLAM PANETTONCINI CHOC CHIP GOLD BOX 80G #3601
These mini chocolate chip panettoni (with no sultans or fruit) come in small ornate boxes with Christmas heritage images and cord handles. They can be used as tree decorations and make beautiful stocking fillers. 
Description
Panettoncini and pandorini are mini versions of Italy's favourite Christmas cakes and they have never been more popular. They are the ideal small Christmas gift for neighbours, friends and work colleagues and they are always a hit with children.
They can also be used as edible Christmas decorations as many of the panettoncini come with handles and hanging loops which means they can actually be used as Christmas tree and room decorations. They also made beautiful decorations for the Christmas Lunch table.