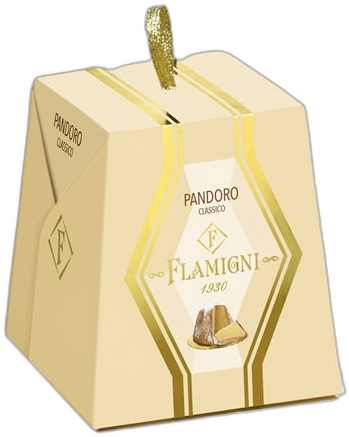 Flamigni
FLAM PANDORO CLASSICO MIGNON 80G BOX #3305
Pandoro is made from a leavened dough that is rich egg and butter to make a light, fluffy, deep-yellow sponge cake. This mini 80g version is presented in a classic pyramid box with white and gold motif.
Description
Originally from Verona in the Veneto region, Pandoro is baked in an eight-pointed star shape inspired by the nearby Alps.  Pandoro – pan d'oro – bread of gold, is most probably named for the rich yellow colour of the cake, however, some believe that since pandoro was first made during the era of the very wealthy Venetian Republic, the cakes were once served covered in gold leaf.
Today's pandoro don't come with gold leaf, but they do contain a satchel of vanilla-flavoured icing sugar which should be dusted over the Pandoro to emulate the snow on the mountain peaks.
Serve Pandoro warm with a little whipped cream and fresh fruit, or dark chocolate and accompanied by a dry prosecco, or Recioto di Soave desert wine.