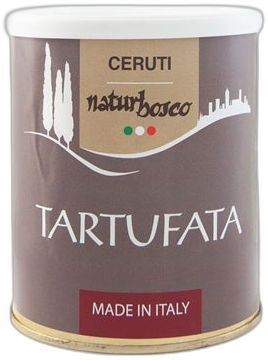 Ceruti
Naturbosco - Tartufata - Truffle & Porcini Paste 800g
An incredibly delicious combination of black truffles, porcini mushrooms, black olives, anchovies and extra virgin olive oil.
Description
Tartufata is made tuber melanosporum  (Black Périgord truffle) whose flavour and aroma is complimented and enhanced with porcini mushroom. These key ingredients are both foraged in the forests of Tuscany, Umbria and Piedmont during autumn-winter months.
There are few products that deliver such an intense hit of flavour. All the key ingredients in this paste: truffle, porcini, olive, anchovy, are all considered umami foods, so combining them together means a little will go a long way.
Add a small amount of Tartufata will lift any pasta or rice dish especially those with meats or mushrooms. Dilute a little in extra virgin olive oil and drizzle over soups and minestrone, pizza, bruschetta,  grilled and roasted meats and poultry. Also recommended with any egg-based dish.
Features
Intense truffle-porcini flavour
Non-GMO