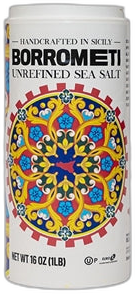 Borrometi
Borometti - Sicilian Unrefined Sea Salt 435g
Unrefined Sicilian sea salt is harvested by hand in Trapani, by Borrometi's Master Salt Maker. The salt is unprocessed, and contains all of its natural trace minerals. The salt is typically used for cooking or finishing, and adding rich flavour. A true product of nature, with no additives.
Description
The coastline around Trapani in western Sicily presents ideal conditions for salt production with a shallow swampy landscape, internal winds and warm Mediterranean climate. The volcanic rock surrounding the area gives the salt a distinctive sweetness.  
Borrometi selects the best sea salt derived from naturally occurring basins around the coastline, with harvesting commencing in March and continuing throughout the summer.  
Features
Naturally formed sea salt
Hand harvested from salt pans
Minimal processing