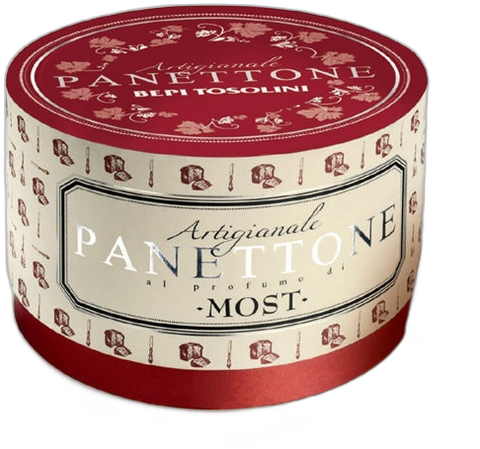 Bepi Tosolini
BEPI TOSOLINI PANETTONE W/MOST ACQUAVITE 1KG
Master distillers Bepi Tosolini lend their prized MOST® Acquavite to infuse this elegant panettone cake filled with plump Italian raisins. It displays a heady aroma of the fine grape spirit and is the perfect accompaniment to grappa and liqueurs at the end of a festive meal.
Description
The MOST collection is a range of refined eau di vie spirits are made from the must of single grape varieties such as Picolit, Ramandolo, Fragolino and Moscato Rosa which are fermented in ashwood vats and then distilled in the company's famous copper pot stills. The result is an eau de vie with a delicate bouquet, clean, fragrant palate and dry finish.  The Bepi Tosolini signature panettone are baked with raisins that have been soaked in MOST eau di vie. A wonderfully moist traditional-style panettone enhanced with the subtle aroma of grape spirit.
Bepi Tosolini MOST Panettone presented in an elegant round gift box.
*Bottle of Most Grappa not included.