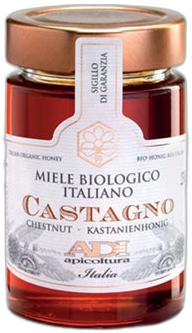 Adi Apicoltura
Adi Apicoltura - Chestnut Flower Organic Honey 250g
Dark amber, clear and intensely flavoured with a slightly bitter aftertaste and a pungent, herbaceous aroma.
Description
The bees collect the nectar from flowers of chestnut trees that in Italy generally bloom in the months of June and July. ADI take the hives to large natural chestnut forests that cover large areas of the Alpine foothills of Piedmont and Lombardy and also the ancient Reventino Chestnut groves of Calabria. The Chestnut blossom is a yellow cluster with a very strong perfume and produce large amounts of nectar and pollen.
The honey is dark in color and sticky to touch and as it is high in fructose, does not crystallize. In Italy it is a favourite honey to use in sweets as it has a slight bitter aftertaste. Chestnut honey also goes well with cheese.
Features
Honey made from nectar foraged in certified organic environments
Sustainable apiary practice
Raw, unpasteurised, unfiltered
No artificial colours, flavours or additives