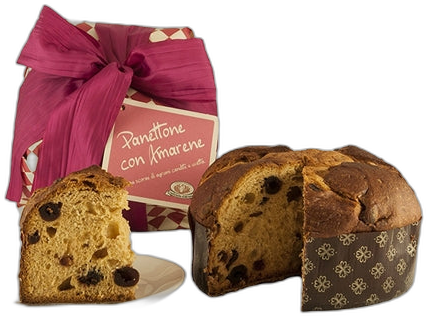 Rustichella D'Abruzzo
RUSTICHELLA PANETTONE CHERRY 750G #7174
Panettone flavoured with Amarena cherries and cherry syrup. No sultanas or citrus peel. Presented in the classic harlequin hand wrap with pink ribbon.
Description
The amarena cherry is a small slightly sour, dark coloured cherry that is especially prized in Abruzzo. The monks in the mountains used them to make liqueur, the pastry chefs bake them into cakes and biscuits and in the beach-front bars serve amarena gelato in the summer.
So it no surprise that Rustichella d'Abruzzo created the amarena cherry panettone. Pieces of glazed amarena cherry and rich amarena syrup make this panettone incredibly delicious and wonderfully moist. Rustichella's Cherry Panettone is always a best seller of the Enoteca Sileno Christmas selection.
Features
A moist, fluffy cake made with butter, eggs, flour and flavoured with Abruzzese Amarena sour cherries and cherry syrup.
Hand wrapped
Produced by artisan pasta makers Rustichella d'Abruzzo